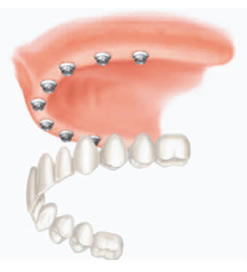 Are you missing teeth and want a beautiful smile again?
Perhaps you have trouble eating certain foods?
Do your dentures slip at the most embarrassing moments?
A staggering amount of people in Ireland wear some form of dentures and many suffer the embarrassment of trying to adapt to what is in essence a foreign object in the mouth. Looseness and discomfort are common complaints, but more important are the psychological aspects linked to wearing false teeth.
Often one of the most practical solutions is a Dental implant: they produce impressive results and are far more superior to bridge work.
WHAT ARE DENTAL IMPLANTS?
Dental implants are used to replace the root structure of a tooth. They are made of titanium which the body easily accepts and the bone grows around the implant. Once the implant has been accepted crowns are placed on the head of the implant. All you can see is your new crown which looks feels and functions like your own natural teeth.
Implants are a well established treatment option. Implants have been scientifically tested and documented for over 30 years. They have a long term success rate of over 95% as shown in clinical studies.
Not only are dental implants a permanent solution, at a low cost they won't compromise any healthy adjacent teeth. They can also preserve the jaw bone which maintains the shape of the face.
Q.How do dental implants rate alongside other treatments in value for money?
A. Dental implants are extremely cost effective as they have a 98% success rate, which is far better than other more traditional treatments. Most other treatments would need to be replaced every 5/7 years. So in the long run dental implants work out much cheaper.
Q. How much do implants cost?
A. Here at Smiledesign dental a single implants costs from €1,900 which includes implant and crown– just remember you don't need an implant per missing tooth. In some cases 4-6 implants can support a full top arch. The treatment is carried out by highly trained staff and our dental surgeon has a masters in implant dentistry so you know you are in safe hands. We also offer a free consultation so you can discuss your treatment needs and expectations.
Contact our friendly supportive staff for a free consultation